Wayne Gerard Trotman
Other Interests
Blogging
On his blog, Red Moon Chronicle, Trotman interviews talented individuals, including creative giants such as Syd Mead, John Howe, Chris Moore, Fred Gambino, Ian Miller, Larry Fast, Kevin J. Anderson, Robert J. Sawyer, Linda Nagata and others.
Nerdom (in no particular order)
Chess, art, superheroes, sandy beaches, blue skies, ice cream, rum cocktails, cooking, baking, shooting, rally driving, 1950s to 1980s music, 70s Jamaican rockers, jazz, progressive rock, classical music, quiet places, green spaces, wildlife, vintage toys, vinyl, movies, beauty, photographic lenses, track and field, travelling, philosophy, world culture, comparative religion, history, WWII, folklore, mythology, knowledge, Ancient Egypt, Dune, Star Trek, Star Wars, Stargate SG-1, re-imagined Battlestar Galactica, Shakespeare, Tolkien, Peter Minshal, Sparrow, Carl Sagan, Einstein, Kate Bush, Beatles, Andreas Vollenweider, Rush, Al Di Meola, John Williams, Mozart, Puccini, Da Vinci, Rembrandt and much more.
Martial Arts
Trotman has training in several martial arts disciplines including karate, taekwondo, nunchaku, kung fu and fencing.
Popular Quotes
The future begins today.

Wayne Gerard Trotman - London: Metropolis of the Future
People who repeatedly attack your confidence and self-esteem are quite aware of your potential, even if you are not.

Wayne Gerard Trotman - Kaya Abaniah and the Father of the Forest
"The sad truth about bigotry is that most bigots either don't realize that they are bigots, or they convince themselves that their bigotry is perfectly justified."

Wayne Gerard Trotman - Kaya Abaniah and the Father of the Forest
Awards
2020 Independent Author Network Book of the Year Awards
Rum & Red Peppers
2020 Literary Titan Book Award
Believe in Fairies
2020 Literary Titan Book Award
Mattie Boombalatty
2020 Literary Titan Book Award
Kaya Abaniah and the Father of the Forest
2019 Wishing Shelf Book Award
A Tiger's Tale
2019 Wishing Shelf Book Award
The Last Honey Bee

British independent filmmaker, writer, photographer, composer and producer of electronic music.
Wayne Gerard Lionel Trotman was born in May 1964 in San Fernando, Trinidad, where he attended San Fernando Boys' R.C. School. In 1975, aged 10, he achieved exceptional results in his Common Entrance exam and was awarded a scholarship to Presentation College, San Fernando, one of the premier secondary schools in the Caribbean. Trotman won the Presentation College Art Prize twice - 1979 and 1982. During the early 1980s, he also won national art prizes in Trinidad and Tobago. His artwork during this period consisted largely of graphics, illustrations, and paintings in oils or acrylics.
In 1984, Trotman moved to London, after his acceptance by the Heatherley School of Fine Art, one of the oldest art colleges in England. His tutors at Heatherley's included the renowned English artist, Daphne Todd. In 1985, Trotman's painting, 'Psychedelic Eric' was accepted for the London Youth Festival exhibition and he was featured in both The Caribbean Times and West Indian World newspapers. That year, he purchased his first professional synthesiser, a Roland JX-3P, and began composing and producing music under the project name, Red Moon.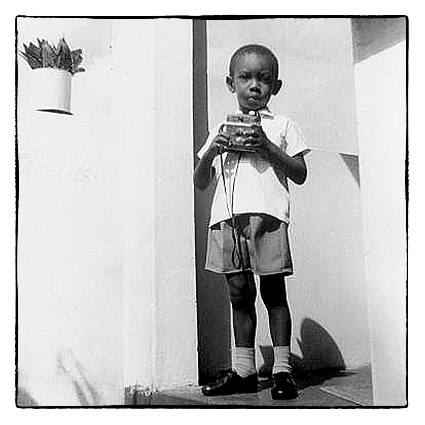 Between the late 1980s and mid 1990s with an expanding studio that included an Ensoniq SQ-80 and Alesis HR-16, Trotman produced compositions for British Sky Broadcasting (BSkyB) as well as low budget independent film productions. He completed his second feature film script titled Ashes to Ashes in 1994 and in 1995 his short film - London: Metropolis of the Future premiered at the British Short Film Festival. In 1998, Trotman directed, co-produced, scored, and edited the British independent film Ashes to Ashes, arguably the world's first digital feature film and Britain's first martial arts movie. He also played the film's lead role of Gabriel Darbeaux using real martial arts weapons including the nunchaku or two-piece rod.
In 2006, he co-produced a training DVD, which tackles the root cause of anxiety and panic attacks: The Fight or Flight Response. Between 2006 and 2009, he wrote part one of his epic Psychic Wars sci-fi saga: Veterans of the Psychic Wars, and in 2012 he released the eBook, Ashes to Ashes: Screenplay. Also in 2012, Trotman became Kingston upon Thames adult intellectual chess champion in what has been his first and only British chess tournament to date.
January 2014 saw Trotman at number 1 on the ReverbNation Electronica chart for the UK and 6th globally, and he has maintained a Top 40 presence since that time. In 2015, he released another instalment from the Psychic Wars universe, Kaya Abaniah and the Father of the Forest. The novel was academically reviewed in Supernatural Literature, a 3-volume encyclopaedia published by St. James Press, which covers the literature of the supernatural across the canon, and includes such notable works as Shakespeare's Hamlet, Mary Shelley's Frankenstein, and J. K. Rowling's Harry Potter and the Philosopher's Stone. Following a visit to Cuba, Trotman has also published two photographic books celebrating the unique history and culture of the island: Images of Cuba and Classic Cars of Cuba.

In 2016, he collaborated with his wife to produce the premium hardcover cookbook, Rum & Red Peppers: 80 Caribbean, Armenian, Middle Eastern & Mediterranean Recipes. The summer of 2017 saw Trotman playing a security doorman and a nunchaku-wielding president in Benjamin Zephaniah's music video for President, the first single released from his 2017 album, Revolutionary Minds. In a Q&A session with New Statesman, Zephaniah, Britain's most famous living poet, claimed that Trotman's Kairi Chronicles (Kaya Abaniah and the Father of the Forest) was the last book that changed his thinking.
October 2019 saw the launch of Wayne Gerard Trotman's Rhyming Stories - seven beautifully illustrated children's titles concerned with conservation and bullying at school. Wayne Gerard Trotman lives with his wife and two sons in Greater London, near Wimbledon.